Pilot Bio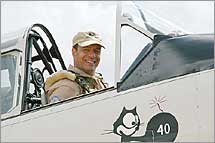 Kevin J. Russo was born in Montreal, Canada and now makes his home in North Branch, New Jersey with his daughter Spenser who is 17 years old and happens to be his crew chief. Kevin was 15 years old when he started to fly. He soloed on his 16th birthday and received his pilot's license on his 17th birthday. Kevin went on to get his Commercial, Instrument, Multi-Engine and Instructor ratings by the age of 19. He now holds Commercial Glider, Helicopter and ATP ratings and has logged over 23,000 hours flying military, airliners and corporate aircraft.
Kevin joined the United States Air Force Reserve when he was 22 years old. He attended pilot training in 1984 and was based at Williams AFB in Arizona, training on the T-37 and the T-38 Talon. Kevin then went on to fly the C-141B Starlifter and the Boeing C-17A Globemaster III with the USAF Reserves. Kevin became an Aircraft Commander, Instructor pilot and Evaluator pilot with the reserves, he was also the Squadron Safety officer and Chief Pilot for the 732nd Airlift Squadron. During his career with the reserves Kevin attained the rank of Lieutenant Colonel with the Reserves at McGuire AFB, New Jersey. Kevin was flying with the 732nd Airlift Squadron before his retirement. Kevin is a veteran of operations in Panama, Desert Shield, Desert Storm, Restore Hope, Just Cause, Nobel Eagle, Anaconda, Enduring Freedom and most recent Operation Iraqi Freedom. Kevin flew over 100 missions in Desert Storm, 34 of those were combat missions. Kevin logged over 1,500 hours during the 11 months his unit was activated for Desert shield and Desert Storm. Kevin has also flown over 20 combat missions in Operation Iraqi Freedom. Kevin was one of the first pilots to be trained on the C-17's with the Reserves at McGuire AFB and has logged over 6,000 hours flying for the USAFR, receiving commendations from the U.S. Air Force, U.S. Air Force Reserve, U.S. Navy and the U.S. Marine Corp.
Kevin was a Captain for American Airlines flying the A300-600 Airbus out of New York flying routes to domestic and International destinations. Kevin was hired by American Airlines in June 1986 as a flight engineer on the B-727, he then up graded to first officer on the B-767 and the 757. Beginning in 1991 Kevin became a Captain flying 4 different aircrafts as Captain, the Foker FK-100, DC-9 (MD-80), B-727, and the A300-600 Airbus, he was also rated in the B-757 and the B-767. Kevin also flew as a Check Captain for 2 years on the A300-600 Airbus.
Kevin is the Chief Pilot for the Managed Fleet at Gama Aviation. He is a Captain and Check Airman on the GIV, GV, G450 and G550 aircraft and flies to world wide destinations.
Kevin is in his 22nd year flying air shows with his SNJ-6/T-6 aircraft. His aircraft is a restored SNJ-6 the aircraft was built in 1944 and delivered to Pensacola NAS FL in August 1945. Kevin purchased the aircraft 23 years ago and restored it back to the Pensacola colors you see today. Kevin's SNJ-6 is thought to be the lowest time Texan around with just over 3,000 hours.
Kevin is available after the air show to answer any questions you have and to sign autographs and take photos.